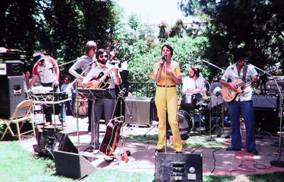 Slip-Stream Playing in the Mission Plaza
San Luis Obispo, July 5, 1980. From left to Right
Chuck Whitaker (bass), Marc Hoffman,
Leslie Ridgeway, Tim Parkhurst, Pat Scandalis
In the Summer of 1980 Chuck, Carrie and Tim moved into a house on Branch Street.  Later Chuck moved into a house around the corner, and Marc and I moved into the Branch Street House. At this point, we got a manager, Lionel D. Lewis, and decided to try and play paying gigs.  We briefly named ourselves Slip-Stream. 

Lionel got us a gig playing in the San Luis Obispo Mission Plaza, and that night in the Dark Room. This was the gig where I had to start the intro to Josie 4 times, because my brain locked up, and I could not play it. However the gig that night at the Dark Room was great.

Chuck: ...12 retries on the intro to Josie when we played in the park down the street from the Dark Room. I believe that night was our first dark room gig. I knew we had made it when did the Dark Room.

Leslie: I remember wearing an all-yellow outfit which Marc told me never to wear again. I wore a purple belt with it, and I remember us telling the audience that we needed a new name, and someone yelled out, "The Purple Belts!". I also remember my family attended this show, and this was one of the first times we did the Time Warp. When it came to the part where I sing, "Well, I was walking down the street just having a think ..." and Chuck and Tim went "oooWEEEO-ooo" like the Beach Boys behind it (not in the original song), my sister and her friends died laughing. Marc was in this incarnation, as I recall - he's in the photos from this show.

Chuck: I'm glad Marc had the balls to tell you that! It was a bit, uh, excessive?

Pat: Hey, I liked the Yellow outfit, it was very early 80's!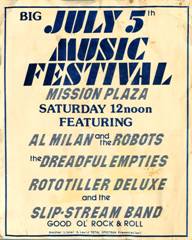 Promotional Poster for Slip-Stream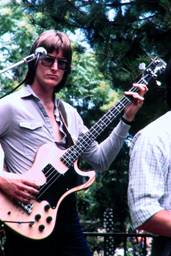 Chuck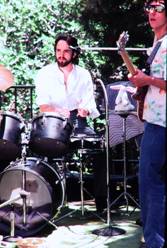 Tim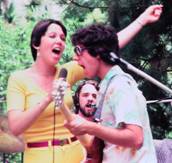 Leslie, Tim, Pat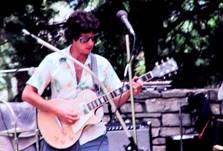 Pat (playing Brett, the
sound engineer's new Les Paul)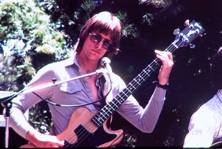 Chuck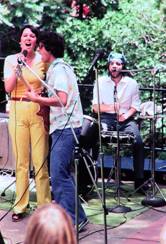 Leslie, Pat and Tim