When I was growing up playing music was not a part of my family or school life. We only had a kids record player, and rarely even listened to the radio. However I do know that my mother had played the piano a bit when she was younger, and my father seemed to have a knack for being able to name a song from the 40's in just a few notes.
For as long as I can remember, I was always interested in things that make sound. I would often ask my mom to take me into the music store to buy toy instruments. When I was in second grade, a look in my junk drawer would have revealed: a siren whistle ring, a slide whistle, an ocarina, a round kazoo, a jaw harp, some brass elephant bells, a tuning fork.


Ukulele Lessons
When I was in third grade, I noticed that I loved the sound of the flute in church. I asked my parents if I could play the flute. I think that they told me it was a girls instrument! Soon after that, they decided that I would play the guitar (good guess)! Somehow I think that my mother envisioned me playing guitar at church. So they bought me a Baritone Ukulele and I started talking lessons at the local music store from Rex Gallion. Apparently Rex was studio guitarist who also helped design the Stratocaster. I didn't really know that about him until recently. I thought that he was just the guy trying to teach me to play "Tom Dooley".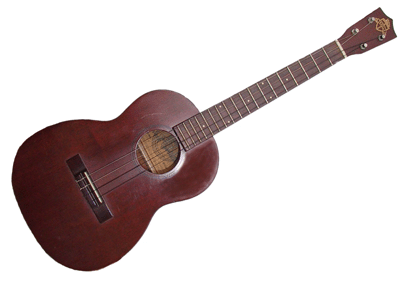 I still have my Baritone Ukulele. Perhaps my
daughter will learn on it someday
I can still remember the songs that I learned to play: "Tom Dooley", "Camp Town Races", "Three Blind Mice". Playing these tunes was not really very fun, and I tended to short-cut sight reading the music by sounding out the melody and just playing it. I think that this went on for about a year. I never really got very good a sight reading, but I did figure out how to play the Baritone Ukulele by ear. I did not return to playing a stringed instrument again until I was 16.
In fifth grade (1968) my family was living in Great Falls Montana. On Fridays we would go to the local "Shaky's Pizza Parlor" where they had a coin operated player piano. I was totally mesmerized by watching the shapes from the holes on the roll, watching all the parts move, and watching the piano play itself.
We begged my parents to get a player piano. We bought this old 1904 clunker from a local church. It mostly worked, but the beautiful wood finish had been slathered over with white latex paint. It was not electric, and had to be pumped with a pair of floor peddles. Somehow my father managed to get the piano down the staircase into the basement.
My parents would sometimes have these martini parties in the basement where the adults would "sing" along with the piano. We had lots of VERY cheesy piano rolls ("Girl from Impanema", "Gentle on my Mind", "On a Clear Day"). You can imagine the sound drifting through the floor of half a dozen martini-fired adults singing "Girl from Impanema".
My time with the piano was after school. One day I figured out how to play the rolls backwards, and flipped over. I found that there are 4 ways to play a roll. Forward, forward flipped, backward, and backward flipped. It occurred to me that I could cut up some rolls and make a new roll from pieces that were spliced back in one of the four orientations. That's exactly what I did! I secretly cut up a couple of rolls, and frankenstein-ed them back together to make a new diabolical sounding roll. I think that my parents noticed that some of the sacred-cheese-piano-rolls were missing, but never made a big deal of it. I'm sure that my mother must have heard me playing my Frank-en-roll.
The Frank-en-roll appears to be lost to time, however the piano is doing great. The piano sat in storage from 1970 until 1991. In 1991 Bernhard Balas completely restored the piano; all new pneumatic tubing, new strings, restored the movement, and new exterior finish. The piano now sits in our living room.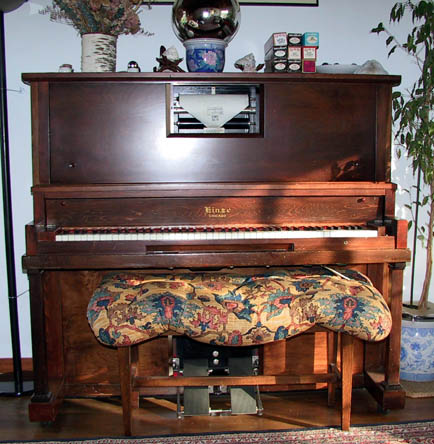 The 1904 Hinze Player Piano. My 8 month old daughter
loves to sit with me when I play a roll.
The Electronic Organ Kit
In seventh grade (1970) my father and I build a Radio Shack Science Fair Kit for an electronic organ. We must have made some mistakes when assembling it because we could never tune it. In fact the same key would not even play the same note every time. This was just fine by me! I loved to play the keys randomly. It sounded like some kind of computer in a science fiction movie. I later figured out that I could wire a rotary switch to the "keys" so that notes could be played quickly. Sort of a manual sequencer. It actually sounded like a sample and hold because the notes for each key were random. Still later I replaced the switches with relays and drove the relays from an old distributor cap attached to a motor. This would have been a mechanical sequencer except that the relays could not switch quickly enough.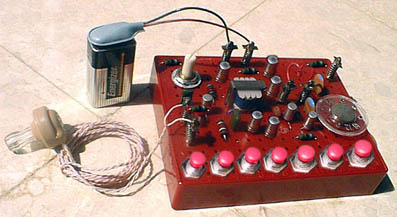 Simulation of what the Radio Shack Science Fair
Electronic organ looked like.
Guitar
Around the beginning of high school (1973) I started to become interested in synthesizers. I had a used copy of "Switched on Bach" and would listen to it for hours. I also liked the synths on "Funeral for a Friend" by Elton John. Finally I discovered that the music of "Yes" and "ELP" was layered with synths.
Around the same time, the beginning of my Junior year (Fall 1974) I got to do lighting for a variety show at my high school. Part of the show was some of my classmates playing in a band that they called "Sierra". I would later wind up playing in bands with the Drummer (Greg Asbury) and the Guitar Player (Tom Bringle). The keyboard player (Fred Schwam) was a monster player. Fred later changed his name to "Freddie Ravel" and is now a session player in LA. I've run into Freddie a couple of times in the last few years.
That night, Sierra played the song "Roundabout" by Yes. I was familiar with the song because I had been listening to Yes a lot already. Their performance that night somehow resonated with me in a BIG way. Soon after that I borrowed a guitar and found myself playing for up to 6 hours a day. My early playing progressed very quickly since I already knew how to play the Baritone Ukulele by ear (the first 4 strings of both instruments are tuned the same). During the Christmas break that year I plunked myself down in front of a record player and picked out (by ear) how to play Steve Howe's "Mood for a Day". It took me the whole week to figure it out, and I'm sure my early performances where klunky. This was the first solo piece that I learned, and I still play it at least once a week.
I should mention that I describe my music memory as "phonographic". Meaning that, I can hear music from memory as if I'm listening to a recording. Sometimes I can direct what I'm listening to, and sometimes I'm hearing a song that I've heard recently. I became aware of this for the first time when I was in ninth grade. I had gone to see "Fiddler on the Roof" on the weekend, and I noticed while I was walking to school I could recall the music as if it was a recording. This has been a great asset in learning to play by ear, but I think that its inhibited my ability to be a good sight reader.
Because I was so eager to learn, I started taking lessons again from a guitar player in Santa Maria named Jerry Coelho. Jerry was mostly a Jazz player, and he was a recent graduate of this new music school in LA called the GIT. Learning from Jerry was great. He introduced me to Jazz, gave me tips on sight reading, modes to use when improvising. Jerry would bring in Howard Roberts for all day clinics and private lessons. I learned a lot from Jerry and Howard... things that I still use today.
Through out the school year I would pester Tom Bringle to show me how to play various things. Tom is easily the guitar player that I learned the most from. He was a total contrast to Jerry. Tom knew how to play country rock licks and lots of the hooks from popular songs. This was really a world away from the Jazz licks that I was learning from Jerry and Howard.
During the Summer between my junior and senior year of high school (1974), I felt that I was ready to get my first electric guitar and amp. In order to pay for it, I got a job that working as a maintenance person at the Laguna Lake Golf Course. It was an unpleasant job. My main task was to dig up the leaking sprinkler pipes and repair them. I would come home most days covered with caked mud. However at the end of the summer I was able to buy a copy of a Les Paul, and an amplifier. I ordered the amplifier from the "Warehouse Sound Company". My first amp as an "Acoustic 150" solid state amp. It was an early FET amplifier and it really sounded too clean for a guitar player.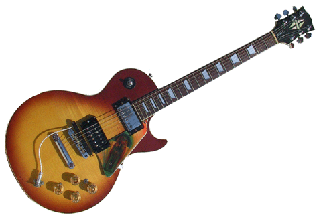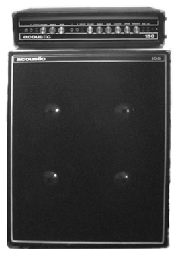 My First Guitar and Amplifier. This copy Les Paul has lots of mods.
Schacter pickups, rewired electronics w/ phase switch, tuning machines,
custom knobs, custom pickguard, Arp Avatar Synth pickup, 360 degree
rotating strap system and the body is filled with epoxy to give
it extra mass.
My Senior year of high school (1975-1976) was spend learning a lot about playing electric. Around this time I became very interested in stomp boxes. In 1975 there were lots of new stomp boxes coming out. Though fuzz and wah-wah had been around for a while, phase shifters and flangers were pretty much a new thing.
Sometime in the fall (1975) at a high school dance I noticed that the guitar player from the local band "Bogart" had this tube in his mouth. Sometimes when he was playing his guitar, the sound came out of the tube, and he used his mouth to articulate it. His guitar was talking! I was totally floored by this (this is just before Peter Frampton's live album came out). I went up to him afterwards and wanted to know how it worked. He sort of hemmed and hawwed and finally showed me this home made box that contained a speaker driver and a tube so that he could direct the sound of his guitar into his mouth. I decided that I would build one of these boxes. I built my first talk box during Christmas 1975. In the summer of the 1976, I sold the original box to Tom Bringle and build a second one with a larger driver. I still have the Talk Box today, though its in need of an overhaul. Tom recently told me that he still has his as well.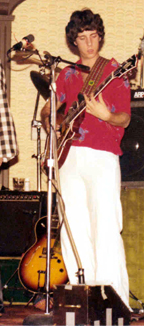 Me with the Talk Box in 1980
Listen to a snippet of me playing
the Talk Box in 1976

First Band
Finally in the middle of my Senior year in high school I felt ready to play in a "band". The first band that I played in was called "Midsummer".