Morro Bay High School
Valentines Day Dance
(Feb 1981)
This was the last real WHSPR gig. After that, we had a few more gigs, but with lots of different players filling in. We were hired to play for at Morro Bay High School for their Valentines Day dance. We kissed and made up with Marc and he agreed to play with us. Chuck came back as well. I recall that the gig was great. The kids loved us.

Leslie: Yeah, this show was a ball. I had a really sore throat that night and was croaking by the end. I wore one of my so-called Pat Benatar outfits. I had heeded that guy's advice, apparently. We did a slow song and I noticed one couple - the guy put his hand on the girl's butt and she slapped it off. Pretty funny. I remember an altercation at the end when the principal or vice principal tried to shut us down early and Chuck, ever the calming force, took the mike and said something like, "They want us to stop playing! You don't want that, do you?" and the kids all screamed "NOOOOOOOOO!" The cute Asian girl who had booked us gave me a hug and we played until midnight as contracted. Why did he want us to shut down?
Front: Pat, girl from MB high who hired us,
Leslie, Marc (Note the WHSPR shirt that
Carrie made), Chuck.
Back: Dave Hudson, Greg Asbury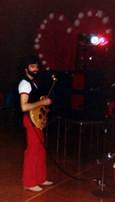 Marc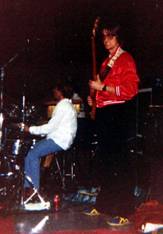 Greg and Chuck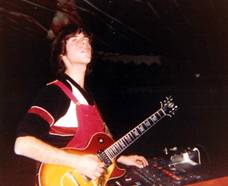 Pat, ARP Avatar