Chuck and Carrie's Wedding
(June 1981)
On June 27, 1981 Chuck and Carrie were married. Leslie, Dave Hudson and I played as a Trio for Chuck and Carrie's Wedding. We played "Lover Arrive" for the processional, and "Chuckie's in Love" for the recessional. Later in the evening at the reception, we had a great Jam session.

Leslie: Let's not forget Chuck and Carrie's wedding! We played at that! We did the Time Warp there, too. I remember Chuck got out of his tux as soon as he could and put on a T-shirt to play in. I was wearing that zebra striped thing. So we can always say, we played BALLARD.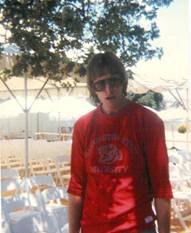 Chuck looking Frazzeled on his Wedding Day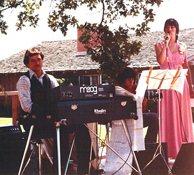 Dave Hudson, Pat and Leslie play "Lover Arrive"
and "Chuckie's in Love" for the ceremony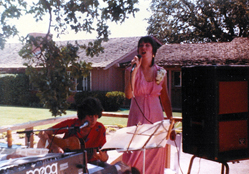 Pat and Leslie playing during the processional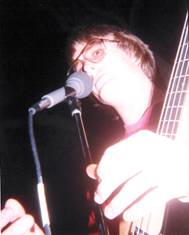 Jam after the wedding!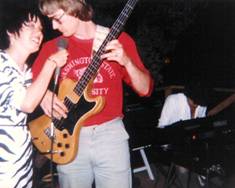 Leslie and Chuck, probably
singing "Blue Bayou"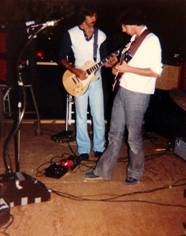 Brett and Pat. Notice the black death
distortion box on the ground. Brett made
this for me, and I still use it to this day.
Also on the left you can see my "Talk Box".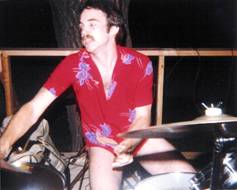 Tim
Front: Dave Hudson, Tim, Chuck
Back: Pat, Leslie, Brett