This was our photo for our 1996 Christmas card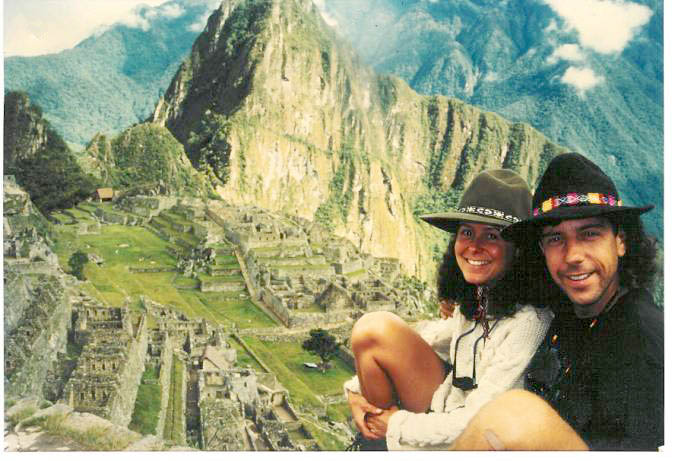 ---
Christmas News Letter December 1996
Well, I'm at it again, baking my holiday carrot cakes.  This year is  a small batch of 28.   It seems hard to believe that a year has passed since I last did a batch.  A busy year too. 
Last December/January, I went with my scuba diving buddy Chip, to visit the Galapagos Islands in Ecuador,  for a week of diving and bird watching.  It was wonderful, we lived on a small boat for a week, and dove or hiked several times a day.  There were many Sea Lions who dove with  us, and on several of our  dives, we saw hammerhead sharks swimming about 20 feet above us. Chris flew down a week later, and we met in Peru, where, along with Chip and his fiancee Julie,  we did a four day backpacking trip in the Andes to Machu Picchu.   This was also great.  On the second day, we hiked from 9,000 feet to 14,000 feet, which was very challenging.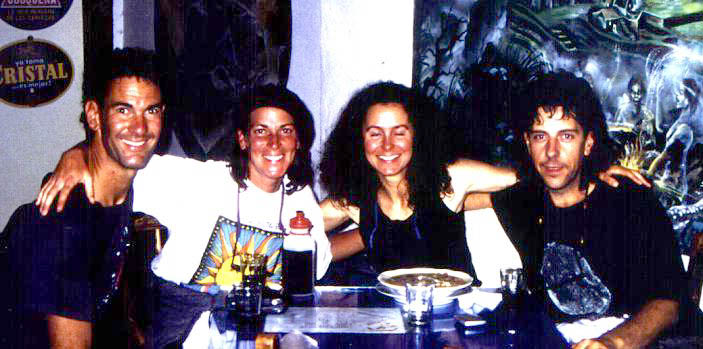 In June, Chris and I spent a week with her parents in Bar Harbor,  Maine.  Bar Harbor has great hiking, and for me it was great to see it in the summer. I  was in Bar Harbor, in the Winter of 1989, and my impression at that time was "Cold, cold cold..".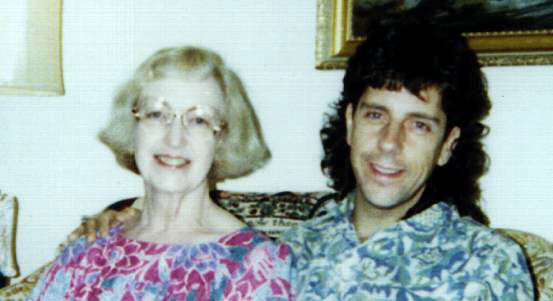 On the way out we stopped in Peoria Ill, to visit my Aunt Mary Louise, a retired professor of nursing,  whom I had not seen in many years.  We spent the night at her place, and had a long conversation about my mother, and things
that I never knew about her.  Sadly, my Aunt Mary Louise passed away several weeks ago.   I was glad that Chris and I had the chance to spend some time with her.
In August, as a part of my work with Stanford University, I went to Hong Kong to talk about some of the research that we have been doing at Stanford.  Chris came along, and we routed our return trip through Bali, and spent a week of well deserved relaxation in Bali.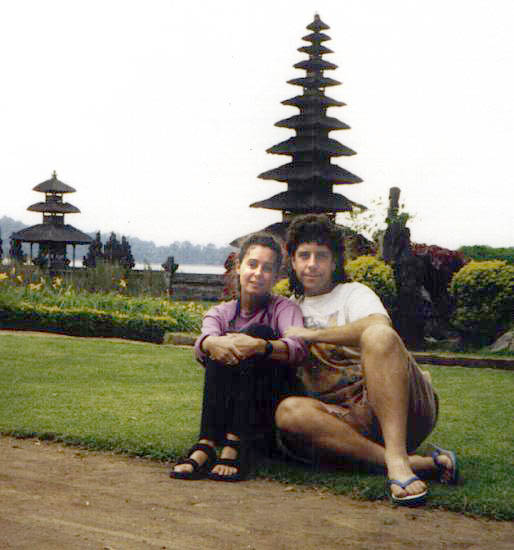 This was my second year of contracting for Stanford University.  I've been working in a Computer Music Laboratory known as CCRMA, on the next generation technology for how personal computers will make sound and music.   The good news is,  we had a very successful year, making several breakthroughs in the technology, filing for several new patents,  and impressing everyone that hears our stuff.  We've been featured in several Television stories for Science shows, "NextStep", and a cable show called "The Site" on MSNBC, and recently BBC radio. 
The flip side of this is , for good or bad, that Stanford has asked us to spinout as a company, which means that my contact with Stanford will be over as of January 1'st, and I will be working without a salary for as long as 18 months.  So the group of seven people who have been working on this technology  are now based in my garage, and we are in the process of starting a company.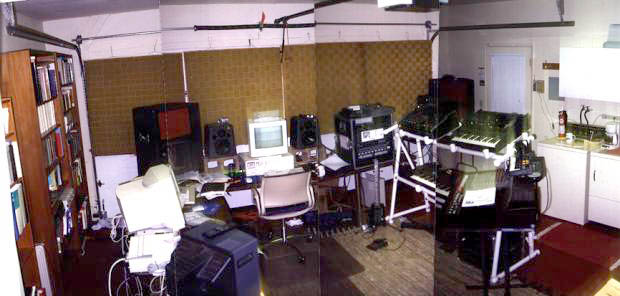 As a part of moving the company into the garage, we moved my office out of the house as well, so now we have a guest room.
In the garage we build a special door that leads into house of our  cat "Pumpkin".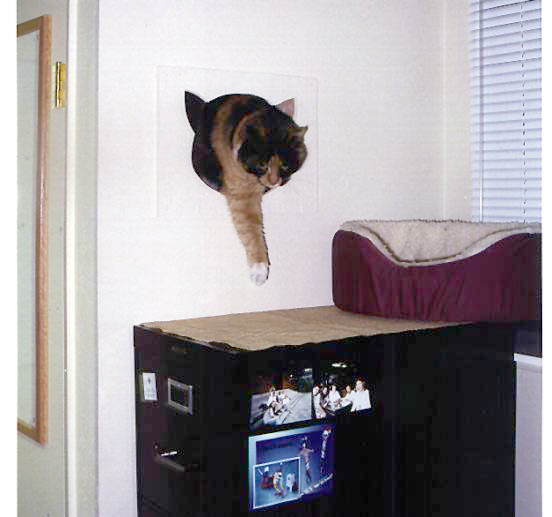 We spent part of the summer watching a nest of 7 baby Barn Owls grow up in the second story of the CCRMA building at Stanford.  We went to see them a few times a week for about 2 months.  We caught this photo of one of the little guys peeking back us after about 7 weeks.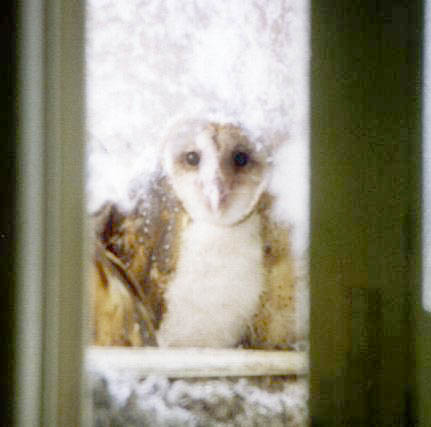 We've also had a great year in the garden.   We had a bumper crop of tomatoes, and because of the warm fall,  we still have a few more to harvest.  December  tomatoes!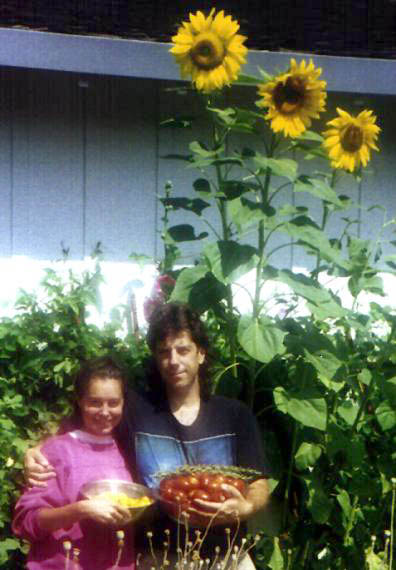 This winter break, Chris and I are headed to Costa Rica.  We'll spend about 3 weeks hiking and Chris says "making friends with monkeys", after that when we return in January, its the big push to try and get our company started and off the ground!
Hope that this coming year finds you well and happy,
-pat
---
This is the label for the 1996 Carrot Cakes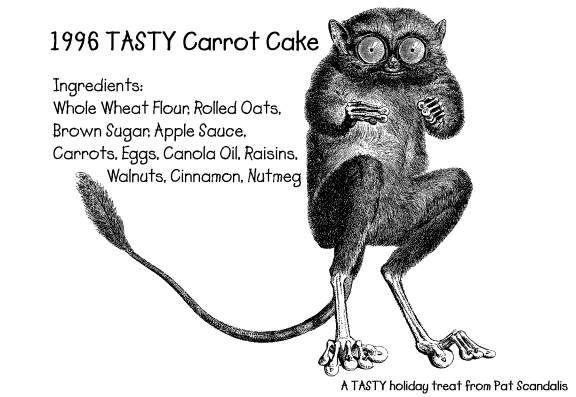 ---
On Dec 25, 1996 Chris and I became engaged. This is our engagement card.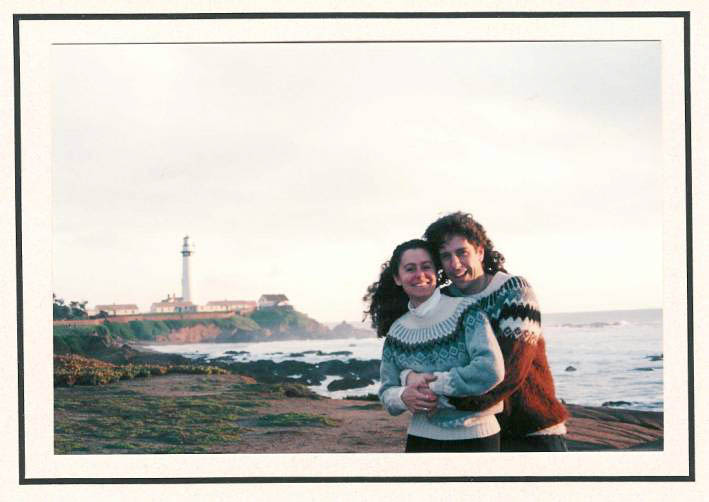 ---